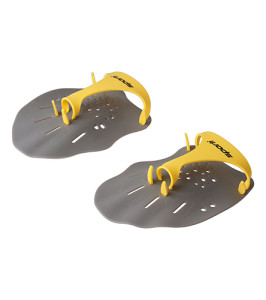 Every triathlete needs a good pair of hand paddles.  They build strength, help refine technique, and provide some variety when you're putting in the long yards for your big race.  The biggest issue facing most triathletes when it comes to hand paddles is which kind to choose:  Do you go for smaller paddles designed to correct stroke flaws and improve feel for the water, or do you go for the giant "trash can lids"?  Depending on how much swim gear you want to accumulate, multiple pairs of paddles may be a good solution.  If you're looking for one solid, all around paddle, or if you have several pairs and you're looking for a good versatile paddle for daily use, the Sporti Hand Paddles II are a great choice.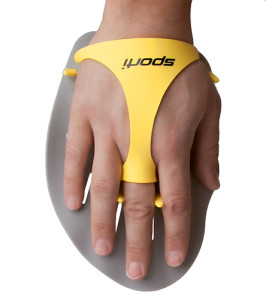 I've been swimming with these Sporti paddles for the past week and have found them to be ideal for triathlon training.  They fit securely, are easy to get on and off, and are very comfortable to wear.  I remember the old paddles I swam with in high school that would leave marks on my hands and wrists after a long pull set, but those days are long gone with the new paddles like these.  The adjustable silicon rubber straps let your hand slip right in and hold the paddles in place without uncomfortable pressure.  The contoured shape of the paddle also helped improve my feel for the water.  The best part for me was how the paddles really made me focus on a clean entry.  Despite my best efforts, I have an awkward entry that my training partners dubbed "The Claw" years ago.  The feel of these paddles encourages a smooth, clean entry which I found very helpful.  Even after taking the paddles off I still found myself focusing on entering the water cleanly.  I also tried swimming with these paddles at various speeds and found that they work well for long, steady state sets as well as fast sprint efforts.
Overall, the Sporti Hand Paddles II are a great choice for triathletes and swimmers looking for a solid, all around hand paddle, and at $8.95 you can't beat the price.  Thanks for reading, now get out there and work out!
Train hard and have fun,
Coach Land