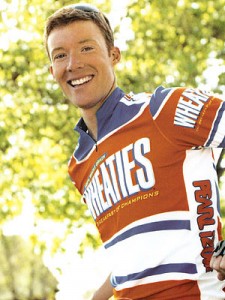 My name is Land Heintzberger, I'm a former professional triathlete and I founded Ironworks Multisport in 2010 as a way to share my passion for triathlon with other athletes interested in pursuing their dreams and goals in the world of endurance sports. Ever since I was young, sports have been a major part of my life: running, swimming, horseback riding… some sort of training was always a part of my everyday routine. I began competing internationally in tetrathlon at the age of 16, then ran NCAA Division 1 track and cross country in college. After graduation I competed internationally in modern pentathlon, but I ultimately found my home in the world of triathlon. Swimming, spending days on the bike riding through the mountains, and running through the forests was the best feeling I had ever found, and still is to this day. I raced professionally for several years, but then was forced to take time off from the sport due to a major shoulder surgery. Going through the experience of not being able to train simply confirmed to me how important triathlon has been in my life, and I began coaching to stay involved with the sport. Through coaching I've discovered a new passion for helping others make triathlon a part of a happy and healthy lifestyle. I'm now recovered from surgery and training to begin racing again in 2011, and I hope to continue training, racing, coaching, and living the endurance life for the rest of my days!
I'm based in Upstate South Carolina near Greenville, in the small town of Campobello.  I'm a USA Triathlon Level 1 Coach, and an American Swim Coaches Association Level 2 Coach.  Through Ironworks Multisport, I offer complete coaching for triathlon, duathlon, running, and swimming. All programs are custom made to suit each individual athlete's goals, fitness level, and life schedule. Training plans are posted weekly on TrainingPeaks.com and come with unlimited email contact.
Individual custom coaching packages are $200 USD per month, private one on one coaching sessions and consultations are available for $50 per hour. If you have any questions, please feel free to contact me at land@ironworksmultisport.com.
Athletic History
2006: Finished 29th place in the Men's Professional division at Ironman Arizona.
2005: Raced for Hannover 96 in German Triathlon Union Bundesliga, lived in Boulder and trained with Dave Scott.
2004: Team USA member, International Triathlon Union World Championships, Madeira, Portugal.  Finished 24th at USA Triathlon Elite National Championships.
2003: Member of USA Triathlon National Development Squad.
2001: Team USA member at International Triathlon Union World Championships, Fredericia, Denmark.
2000: Team USA member at International Triathlon Union World Championships, Perth, Australia.
1999: Team USA member at Modern Pentathlon World Cup, San Antonio Texas.
1998: Winner of team silver and individual bronze medals at Modern Pentathlon Junior Pan American Championships, San Antonio, Texas, represented the US at the Modern Pentathlon Junior World Championships in Prague, Czech Republic.
1996-1998: Varsity Letterman in NCAA Div. 1 Track and Cross Country at Wofford College.
1995 and 1997 Tetrathlon National Champion.
Qualifications
• USA Triathlon Level 1 Coach
• American Swim Coaches Association Level 1 Coach
• Certified by the American Health and Safety Institute in CPR/AED and First Aid
Education
• 1998: Bachelor of Arts – History, Wofford College
• 1996: Associate of Arts with Honors – Pre-Liberal Arts, Isothermal Community College
Interests
When I'm not swimming, biking, and running, I enjoy reading, and keeping up to date with the latest training methods and technology.