As busy as I stay with my coaching business, I'm still out training every single day, not only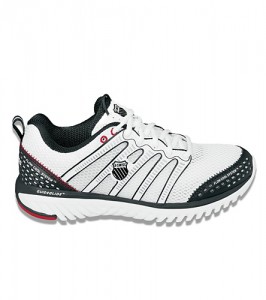 because I love the sport but because I find that it keeps me in touch with what's going on in the triathlon world.  In my effort to help bring you the best free triathlon tips, I'm going to start to offer some product reviews of things that I like and use every day.
I've been loyal to a certain brand of running shoes for over a decade.  They sponsored my college track and cross country team, and I had a shoe deal with them while I was racing professionally.  I have to pay for their shoes now, but I've stuck with them for a long time because they supported me.  But I think I may have to think about switching.
Like practically everyone in triathlon, I've seen how many pros have been switching to K-Swiss running shoes over the past few years.  I grew up thinking of K-Swiss as purely a tennis shoe, so I guess I've been a bit late to jump on board with them as a running shoe.  Well, I'm glad that I've finally caught up with everyone else.  I just started running in the K-Swiss Blade Light and it might just be the most comfortable shoe I've ever worn.  Starting from the ground up, the material for the outsole is pliable, but firm enough for most surfaces.  The insole stays put even during faster tempo paced runs and speed work.  Where the shoe really shines is the uppers, which I love for what they don't have.  I've been plagued by blisters on my arches for years because of all the cosmetic stuff that shoe companies feel that they need to plaster all over their shoes.  K-Swiss hasn't put anything over the arch so there's no stitching to rub the inside of your foot, and that means  your feet stay happy and blister free.  The toe box is roomy and comfortable, the laces are a unique design that stays tied and doesn't slip, and the shoes weigh in at a light and responsive 9.6 ounces.  I find them to be perfect for training and also long distance racing. They do seem to run slightly large, so you may consider ordering a half size smaller than your regular shoe.
Thanks for reading my product reviews and triathlon tips, please be sure to come back soon for more great free triathlon training information!