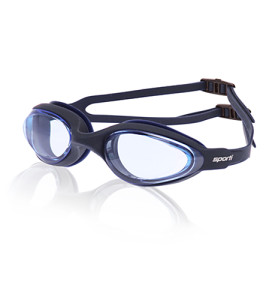 When it comes to the swim, one of the most important, and yet often overlooked, pieces of equipment for any triathlete is a good pair of goggles.  In training, they protect your eyes from the ravages of chlorine, and in competition they help keep your vision clear so that you can navigate efficiently around the swim course.  Even the best wetsuit or speedsuit isn't going to be of much use when you can't see where you're going!  Hardly anything can spoil a swim faster than a leaky or fogged up pair of goggles.
This summer I've been searching for the perfect open water triathlon goggles.  I've tried several pairs, the first of which were the Sporti Antifog Cabo Goggles.  The Cabos are a one-piece soft Silicon design with shatter-resistant polycarbonate lenses, and a split Silicon head strap which ensures plenty of adjustability for a good fit.  I found adjustment to be easy and had no trouble getting the goggles ready to go.  The fit was very comfortable.  The lenses are slightly on the large side, which offers great peripheral vision, but those with a smaller face might try something like the Sporti Antifog S2 Goggles.  I've been swimming with the Cabos for the past week and have had no issues with fogging or leaking.
Overall, the Cabo's are a solid choice for triathletes and swimmers looking for a good pair of goggles for training and racing, in the pool and in open water.  And at $5.95 they offer an unbeatable value!
Thanks for visiting Ironworks Multisport.  Be sure to check back soon for more triathlon training and equipment tips.  Happy Training!