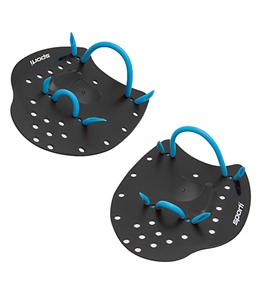 If there's an item of training equipment that most swimmers and triathletes love, it's hand paddles.  Okay, some people may love pull buoys and fins even more, but a good set of hand paddles have always been my weapon of choice.  There's nothing like that feel of gripping the water and extra speed that you get from a good set of paddles, and there are also some great benefits like improved strength and technique.  This is also the perfect time of year to get the paddles out.  The cold winter months make it tough to get out and put in the long miles on the road, so why not hit the pool and build up some strength and endurance?  This is especially valuable if the swim is your biggest limiter as an athlete.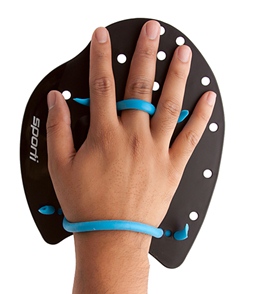 If you're looking into getting a new set of paddles, the new Sporti Power Swim Paddles are a great place to start.  First of all, the price is just about unbeatable at $4.95.  You can literally spend more on a cup of coffee these days!  These paddles are well made and sturdy enough to hold up to a lot of pool time.  They also have a nice secure fit; you can put these on and pound out a tough set of 50's or 100's and be confident that they're going to stay in place and not slip around on your hand even at high speeds.  I particularly like the ergonomic design that makes the paddles more comfortable and allows you to maintain a better feel for the water.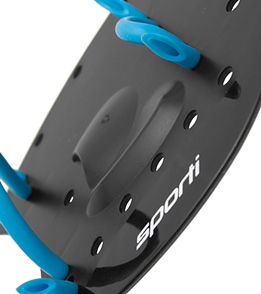 Of course, like any other piece of equipment, it's important not to overdo it with paddles.  You don't want to turn them into a crutch and reach for them every time you can't make an interval.  Used correctly though, they're a great tool to use to help you build strength in the water.  When I use paddles, I like to put them on for the first half of a set, and then track my time and stroke count with paddles.  Then, I challenge myself to swim the second half of the set without paddles and to hold my time and stroke count from the first half of the set.
And if you're looking for more great info on triathlon gear and training, be sure to stop by SwimOutlet.com for new features from Olympic Triathlete and ITU star Jarrod Shoemaker!  Jarrod is joining other Olympians like Mark Gangloff, Tony Azevedo, and Garrett Weber-Gale as an expert contributor and will be sharing some of the insights and experiences that he's gained over his career as a professional triathlete.
As always, thanks very much for taking the time to visit my blog!  Happy New Year's and all the best for a safe, healthy, and fast 2014.  Happy Training!