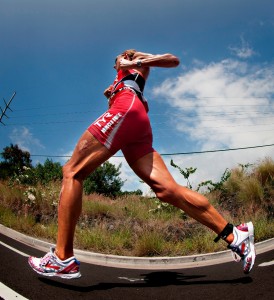 Some time ago, I started a little project to analyze the height to weight ratios of some of the  world's best triathletes.  I got interested in this because of the old rule for runners that states that a runners race weight should be 2 pounds per inch of height.  Simply put, if you're 6 feet tall (72 inches) you should weight 144 pounds (72×2=144).  That's pretty lean when you think about it, but it actually holds true for many of the worlds best runners.  But triathletes have to carry a lot of extra muscle to swim and bike!  So what's the "ideal" ratio for triathletes?  The results are actually pretty surprising and are slightly different for men and women.  If you check out my old post on elite men's height to weight ratios you'll notice that Ironman athletes tend to be a little heavier than ITU athletes.  It's the reverse for the women, although that could mainly be due to the narrowness of the sample that I've used.  I've calculated the height to weight ratios for women's world champions in Ironman and Olympic distance racing below.  Please note, this is only the best info I could find on the internet so I can't guarantee the accuracy!  Also, you'll see that there is a pretty side variation in heights and weights even among world champions, so it's not really possible to claim that there's one "ideal" ratio, and please don't go and try to loose weight just because you're not as thin as Chrissie Wellington!  The most important thing for all athletes is to do the best you can with what you've got.
ITU World Champions 2001-2010:
Nicole Hackett: 5'5″, 123 lbs.=1.89 pounds per inch of height
Siri Lindley: 5'0″, 128 lbs.=2.13
Leanda Cave: 5'11″/127 lbs. =1.78
Emma Snowsill: 5'3″/108 lbs.=1.71
Sheila Taormina: 5'3″/119 lbs.=1.88
Vanessa Fernandes: 5'6″/126 lbs.=1.90
Helen Tucker: 5'6″/121 lbs.=1.83
Emma Moffat: 5'7″/126 lbs.=1.88
Average: 1.87
Ironman World Champions 2001-2010:
(*No available information for Lori Bowden)
Natasha Badmann: 5'5″/110 lbs.= 1.69
Michellie Jones: 5'11″/132 lbs.=1.85
Chrissie Wellington: 5'7″/132 lbs.=1.97
Mirinda Carfrae: 5'3″/114 lbs.=1.81
Average: 1.83
Thanks for reading!  Please check back soon for more articles on training and racing from Ironworks Multisport!