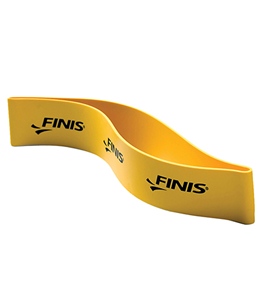 Without a doubt, the training tool most neglected by triathletes is the ankle pulling band.  Most triathletes love their paddles, pull buoys, and fins, all training tools that make swimming easier and faster.  Ankle pulling bands make training harder, and as my old swim coach always used to say, the point of training is to make it harder, not easier.  They've been a favorite of Australian distance swimmers for years, and as anyone who follows swimming knows, Australia has produced some of the best distance swimmers in history.  The Aussies are also pretty good at this whole triathlon thing, as Chris McCormack, Craig Alexander, Mirinida Carfrae, and Pete Jacobs have shown the world for the past several years.
Ankle pulling bands are also about the simplest training tool you can find.  My coach used to make them for our whole team by cutting up old inner tubes, but you can buy a much more stylish and comfortable version made by the great folks at FINIS.  Ankle pulling bands are simply a rubber strap that slip around your ankles, requiring you to swim without any kick.  You think that you're not using your legs when you're swimming with a buoy, but the buoyancy of the buoy actually makes swimming easier.  In fact, I would recommend using a buoy when you first start swimming with ankle bands.  You'll understand when you give it a try.
The main benefit of using an ankle pulling band in training is developing strength.  You have to have to produce a lot of force with your upper body and core to overcome the drag produced by pulling your legs through the water without kicking.  I also like the bands for developing feel for the water; if you have a dead spot in your pull it will become instantly apparent when you're swimming with bands.
Triathlon swimming is more about strength than perfect form.  Think about powering through waves and chop, dealing with swimming in a pack of thrashing arms and legs, and you can see why strength trumps technique.  Include some swimming with the FINIS Ankle Band in your upcoming workouts and watch your swim splits improve!  Here's a set to get you started:
100 with ankle bands, buoy, and paddles, 30″ RI                                                                     4×25 swim, 15″ RI                                                                                                                 100 with ankle bands and buoy, 30″ RI                                                                                     4×25 swim, 15″ RI                                                                                                                   100 with ankle bands, 30″ RI                                                                                                     4×25 swim, 15″ RI.
Give it a try, and be sure to come back to Ironworks Multisport and leave a comment to tell me how it goes!  Good luck, and happy training!