I've always been a little bit resistant when it comes to bike technology in triathlon.  After all, the most important thing is the engine, not the machine, right?  Well, these days, it turns out that the machine is pretty important too.  A quick look at any Ironman results will show you that while swim and run times have stayed fairly constant since the late 80's, bike splits have fallen dramatically over the last few years.  Even more importantly, many athletes have reported having faster times on the bike with lower power outputs after refining their choice of equipment and position on the bike.  That means going faster with less work.  Who could argue with that?  So what's a triathlete to do, rush out and buy a $10,000 super bike at the first opportunity?  No so fast.  One of the most common mistakes that I see among triathletes is picking a bike just by the price tag, assuming that more expensive means more speed.  But keep in mind that just because a bike costs a lot of money doesn't mean that it's the right bike for you, and no bike is going to allow you to achieve peak performance unless it fits.  The solution is to get some expert advice: seek professional help when you select your bike, and get a professional fit to ensure maximum performance on your new machine.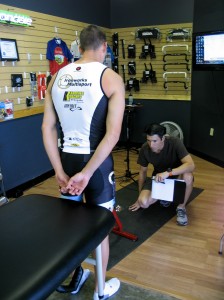 This past week I was able to observe a bike fitting for Jeremy King, an athlete that I coach, at Ride On Multisport in Anderson, SC.  The fitting was conducted by Bryan Sobey, who is a Serotta and Retul certified bike fitter.  This brings me to another point: not all fittings are created equal.  If you decide to go for a professional fitting, make sure that you're working with a certified professional.  Serotta and Retul are two of the best certifications.  Bryan started the session by checking for anatomical issues and restrictions in flexibility and range of motion.  It's important to remember that flexibility is a key factor in bike fit, and that you can only set the front end of your bike up as low as you can go while maintaining a flat back.  After Jeremy got on the bike we checked some numbers on the Computrainer and identified areas with room for improvement; with a few adjustments Bryan was able to increase his power output by about 10 watts.  We even threw on an Osymetric chain ring on the front, which was quite interesting, but that's enough  of a subject for a whole other post.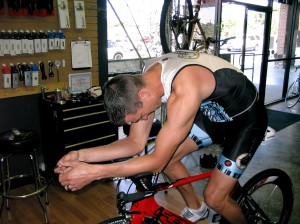 This was just the first step in Jeremy's fitting, we're hoping to get him on the Retul in the next couple of weeks, and I'll write an update after that session.  But after the initial step of the fitting I have to say that I would consider it an essential step for every serious triathlete.  If you invest your hard earned money into buying a great bike, and you invest your time into training hard to prepare your body, why not make the most of it?  Thanks for reading, and stay tuned for a follow up post on the Retul fitting!