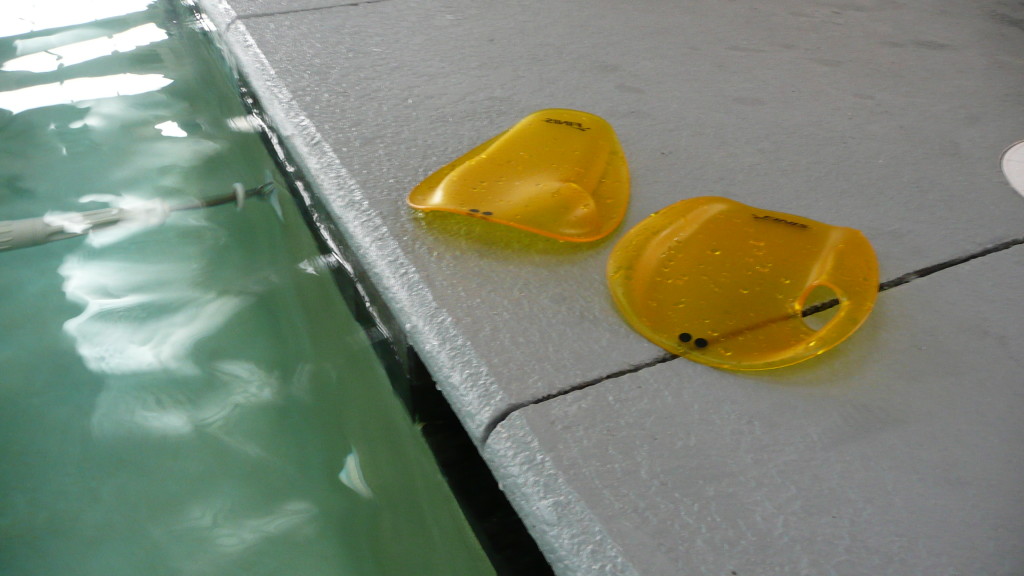 As a life long swimmer, and triathlete and swim coach for 15 years, I'd thought I'd seen pretty much every possible variation on hand paddles, but the Finis Agility Paddle is something entirely new.  So what makes it so different?  As you can quite easily see, they have no straps.  Instead, there's a hole in the paddle which you put your thumb through, and then apply light pressure to hold the paddle in place. This strapless design has two main benefits.  First, there are no straps to degrade and eventually break.  Second, you must use the pressure of the water to keep the paddles on your hands.  As a coach, the second is what makes these paddles so exciting.  I'm constantly telling my swimmers that their hands should enter the water cleanly, catch early and with a high elbow, and to strive for an early vertical forearm.  These hand paddles encourage all of these traits; you don't even have to think about it, you just feel it.  And if you have faulty technique you get immediate feedback because the paddles will just fall off!
The first time I tried these paddles out, I was a little unsure about how well they would perform, and they did feel different from a conventional paddle.  However, I didn't have any problems keeping the paddles on, and after a few laps they began to feel completely comfortable and natural.  I experimented a little and tried to lead with my elbow for a few strokes, and as expected the paddles immediately came off.  Another great thing about these paddles is that they can be used for all four strokes.  They are equally comfortable for butterfly, backstroke, breaststroke, and freestyle.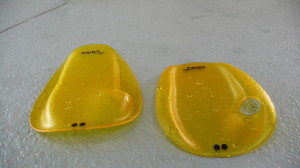 I would find these paddles suitable for all swimmers, especially younger age groupers and triathletes who constantly need to focus on form and technique.  Beginners will find them valuable because of the constant demand for an early vertical forearm, and advanced swimmers can benefit from using them for long sets where technique can sometimes falter.  If you're looking for a great new paddle to help you perfect your swim technique and improve your swim splits at the races, I'd highly recommend giving Finis Agility Paddles a try.  Thanks for reading my triathlon tips, please check back soon for lots more information on triathlon and swim training!